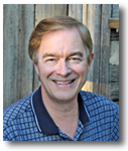 Greg Gerlach is the owner of Gerlach Productions. He's a seasoned video veteran with more than forty years of experience. From 1982 to 1992 Greg worked as a news anchor, reporter and executive producer at WLEX-TV, the NBC affiliate in Lexington, Kentucky. In 1992, Greg founded Gerlach Productions, a video production company dedicated to providing clients with state of the art services to meet their video production needs.
In a business where experience is everything, Greg brings to the table a wide range of expertise including award-winning videography, scripting and editing. Greg was a finalist for the prestigious Alfred I. duPont Award. He also received an Iris Award and has won numerous Associated Press Awards.
Whether it's a 30 second ad or a 90 minute documentary, Greg knows how to plan, script, film and edit a video that gets results. Initially, he'll consult with you to see exactly what kind of video you need produced. Then he'll offer suggestions as to how to accomplish your goals for the video.
Next, Greg will help you develop an outline for the script based on the content you want to include in your video. Then he'll write the script. When he completes the script, he'll email a copy to you for revisions and/or approval.
Filming is the next step in the production process. Greg will work with you to develop a filming schedule. If necessary, he'll meet you at the filming locations(s) to discuss filming options. In addition, he'll help you prepare any people who will be appearing on camera. So when the day of filming comes, they'll be ready and confident.
Finally, editing is the last step in the production process. Using Black Magic's DaVinci Resolve Studio, Greg will edit your video. When he completes the video, he'll send you a private link. You and anyone else in your project loop can view the edited video. Once you have reviewed the video, you can submit any revisions that need to be made.
Gerlach Productions will make the production process as efficient and worry-free as possible to deliver the video you need.

Here are some of the companies and organizations Gerlach Productions has produced videos for:
University of Kentucky
Georgetown College
Eastern Kentucky University
Johnson Controls
Championship Productions (Leading producer of athletic instructional videos)
Axon Communications (Leading producer of medical instructional videos)
Cartoon Network (Cable TV network)
Steve Rotfeld Productions (Producer of syndicated TV shows)
Western Sky Media (Producer of syndicated TV shows)
American Cancer Society
Asphalt Institute
Bluegrass Military Affairs Coalition
Cartown Kia
Central Kentucky Youth Orchestra
Psalm 82:3 Mission
Commonwealth Orthopedic
Kentucky Department of Criminal Justice Training
Facility Commissioning Group
Family Wealth Group
Finney Company
First Southern Bank
Fitness Plus
Milward Funeral Home
Lexington Cemetery
Helmets to Hardhats
Housewarmings
Industrial Services International
Kentucky Association of Realtors
Kentucky Chamber of Commerce
KET
Kraft Horse Walkers
Kentucky Transportation Cabinet
Lake Cumberland Resort
Lexington Ballet
London-Laurel County Chamber of Commerce
Miss Kentucky Competition
Ruggles Sign Company
Square D
Valvoline
Learn more using these links: