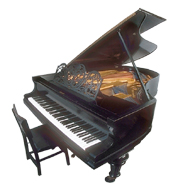 After all the countless hours of practicing and taking lessons, it's time to give your recital. Relive this memorable moment for years to come with a DVD professionally produced by Gerlach Productions. Check out this montage of samples:
BASE COST: $250
You get:
Wide screen digital videography
Audio recorded in high quality stereo
Basic info printed on DVD
DVD in clear poly clamshell case
OPTIONS
1) Upgrade to white album style DVD case: $25
Front cover includes an image from recital & info such as name, date, location, etc. Choose from four available template styles.
2) Program info such as songs, composers, etc. printed on back cover of album-style case: $10
(You provide the info in text document such as Word)
3) Menu chapter points for each song: $25 total for all chapter points.
4) DVD duplication in clear poly clamshell cases:
>>>1-4 duplications @ $5 each + shipping & sales tax if applicable
>>>10 or more duplications @ $1.70 each + $5 setup fee + shipping & sales tax if applicable
5) DVD duplications in white album-style DVD cases:
>>>1-4 duplications @ $6 each + shipping & sales tax if applicable
>>>10 or more duplications @ $2.20 each + $5 setup fee + shipping & sales tax if applicable
6) Mp4 video files for upload to mobile devices, YouTube & Facebook: $10 per song